FOX's Rocky Horror Picture Show: Why must you torture me??
I've been a fan of The Rocky Horror Picture Show for just over 20 years, and even performed in a shadow cast of the show. So naturally, I was skeptical when we initially brought you the news that FOX was remaking the iconic film as a TV-based homage.
Even as I turned on my TV last night, I was still hesitant to watch the movie. As the opening number (Science Fiction/Double Feature) began, I was a little perturbed by the way that they had chosen to feature the entire visage of Ivy Levan singing the song while strolling down the street, instead of going with the iconic closeup of a woman's red lips, that have been the symbol of RHPS for the past 40 years. The changes had begun.
As Tim Curry's bespectacled face filled my screen, while uttering the lines of the Narrator/Criminologist, I began to relax – I was thrilled that he was making an appearance in this remake. The effects of his 2013 stroke still were evident, but they didn't dull the devilish shine in his eyes. Curry's appearance as The Narrator/Criminologist also brought to light one of the only good updates made to this version of RHPS: an assistant for the character. This, in my opinion was pulled off quite seamlessly, and I am glad to see that the writers made this accommodation.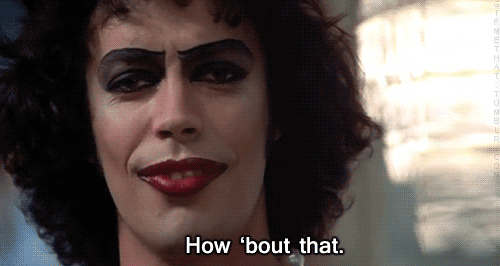 In an effort to keep this review from devolving into me frothing at the mouth about the changes to one of my favorite productions, let's just hit on a few key points, shall we?
Brad Majors (Ryan McCartan) & Janet Weiss (Victoria Justice): I have no doubt that these two individuals have a love for what they do. However, their portrayals of their characters were…unimpressive. While Justice has a decent singing voice, her take on the character of Janet seemed flat & unemotive, and McCartan seemed as though he was trying too hard to be the dorky & awkward Brad Majors. They're no Susan Sarandon & Barry Bostwick.
Riff Raff (Reeve Carney) & Magenta (Christina Milian): First, let's talk about their makeup. Carney physically looked like the classic image of Riff Raff, but his take on the character's personality was decidedly lacking. Milian's hair bothered me, as Magenta's look definitely revolves around having wild, somewhat unkempt curly red hair. Let's not forget Milian's attempt at what I can only describe as a Slavic-style accent for the character…
Columbia: Annaleigh Ashford was cute in a more punk look for the character, and her acting was pretty decent. However, I took some issue with the "safe & sanitized" look that FOX had for the character. Originally portrayed in 1975 by Nell Campbell, who was widely known to be a bit of an exhibitionist, I feel that the role didn't have the sex appeal as was called for for the character.
Dr. Frank N. Furter: Oh, Laverne Cox! In what seemed like complete opposition to the majority of the cast, I could not have been happier with this casting choice. With her masterful portrayal of the iconic character of Dr. Frank N. Furter, she seemed to truly have love for the production, and showed it as she channeled Tim Curry (and later Tina Turner) in her acting. I would also be remiss if I didn't say, HOLY VOCAL RANGE!
Rocky: Staz Nair was almost a faithful recreation of Peter Hinwood's 1975 portrayal. 2 things: not vulnerable enough, and WHY WAS HE IN BOXER SHORTS?
Eddie: I…have very little words to capture how I felt when I saw Adam Lambert burst on screen in the post-brain-donation punk/greaser look of this character. Throughout "Hot Patootie", it just felt like Lambert was uncomfortable, and his screen presence looked so out of place in the role of Eddie. I can't find anything good about his performance.
Dr. Everett (von) Scott: Let's not mince words here. Ben Vereen is an incredible actor. That being said, I felt that his pseudo-operatic take on Dr. Scott (the role I played in the shadow cast) was a bit over the top for what is supposed to be one of the more subdued characters. In addition, I thought that FOX missed out on a great piece of comedy, as the whole "magnet" bit was omitted from Scott's entrance into the lab. That was a fail in my book.
Now that we've covered the characters, let's take a look at the choreography and songs. First, and foremost, I thought that the "Time Warp" number was a failure on the part of FOX & the choreographers. There was some physical comedy missing (the banister didn't get lucky), and the Transylvanians didn't actually do the iconic Time Warp choreography! What. The. Eff, man? Second (and this is a bit minor), the "meatloaf" joke at the dinner didn't have the same impact. It's subtle, but important. Third, I thought that Vereen's pseudo-operatic take on his vocals in "Eddie's Teddy" felt overbearing & out of place. Finally, the safe & "cleaned-up" way that "Rose Tints My World" was done was just…wrong. That song is supposed to be raunchy and sexually-charged, and all the characters on stage are supposed to be dressed in lingerie (why the hell was Columbia in pants & a t-shirt?)! I mean, I understand that this was a FOX production on TV during prime time, but SERIOUSLY!!!
All in all, I can't say that I was happy about this production. I had hoped for a better homage to one of my favorite films of all time, and I felt almost sad after watching this…thing it had become.
2 out of 5 Sonic Transducers