This October, Let's Not Play Horror Games
Whenever it comes to writing about video games and Halloween, the default ideas are things like "Top 10 Horror Games" or "The Scariest Game Ever." I'm not a girl who plays horror games so I usually have to go radio silent in October until November comes. This year, I'm changing things up!
After a fun conversation with the PCU crew, I discovered that I'm not the only one who avoids the horror genre. There are others like me who pass this genre by in the store and pick up other games like Yoshi's Woolly World or Pokemon Sun/Moon. Cute games. Ones with happy endings and no scare tactics.
If you're like me and don't want to scare yourself, there's a few games coming out this month that don't go bump in the night:
Forza Motorsport 7 (PC and Xbox One)
Layton's Mystery Journey: Katrielle and the Millionaires' Conspiracy (3DS)
Middle-Earth: Shadow of War (PC, PS4, Xbox One)
Gran Turismo Sport (PS4)
South Park: The Fractured But Whole (PC, PS4, Xbox One)
Fire Emblem Warriors (3DS, Switch)
Assassin's Creed: Origins (PC, PS4, Xbox One)
Super Mario Odyssey (Switch)
Wolfenstein II: The New Colossus (PC, PS4, Xbox One)
I have accepted that I will never play a horror genre and I'm missing out on a huge part of the gamer zeitgeist. You can too!
You're also not alone. According to Statista, Horror games were not even in the Top 8 genres played in 2016. The Entertainment Software Association (ESA) released their study on video games in 2016 and showed that the top-selling games were in non-horror genres.
Unfortunately, I fell in love with a man who loves those games that I've avoided like the plague. During our first few dates, he told me that his favorite games include Dead Space, Resident Evil, Evil Within, Silent Hill, etc. The truth was bound to come out eventually and I told him that I never played games in the horror genre. The closest I got was The Walking Dead Telltale Game Season 1, which some of my friends call "horror-lite." In true gamer fashion, he went on a rant describing all the games and why I have to give it a shot. He said that the scary bits are actually fun and part of the experience.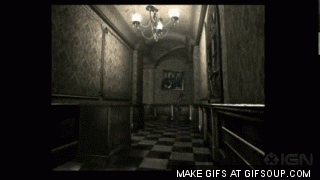 "You have to at least play Resident Evil! It's a classic," he said.
"So," I said, stuffing my face with French Fries, "you're telling me to voluntarily give myself multiple heart attacks and that I'll like it?"
"Yea!"
I didn't play.
Months later, he tried a different approach. "Okay, baby," he said, "How about I play and you watch? Some of these storylines are so good you can't miss out on the great writing." I was skeptical, but I do watch some horror movies so it can't be that bad.
He pulled out Dead Space and started playing, giving me commentary on why this game was so good. It became less scary and I was finally able to appreciate the game.
And that's the story of how I learned to stop worrying and love the terror.
But…
I'll never play a horror game. I can't do it. Call me a chicken. Call me a coward. I don't care. I'm not going to play and that's okay. I don't think any gamer has played all the games (please message me if you have) and I don't think you need to. Play what you want. Don't be ashamed of what you haven't played, can't play, or won't play.
If you're curious about games in the horror genre, but don't want to play, there's options for you. Just go on Youtube and type "[the name of the video game] walkthrough" or better yet, if you want just the cut scenes, us "cut scenes" instead of "walk through" and watch as much and you can stomach. You can also hop on Twitch. Many people play the games that scare you and are happy to record for others' entertainment. Treat it like a movie, leave the lights on, and appreciate that you aren't the only one who's doing the same thing.
There's nothing wrong with avoiding a genre you know you won't enjoy because there is no point forcing yourself to do something that isn't fun. Life is too short for that.
For October, play Overcooked or Splatoon 2. That sounds more fun to me.