Batman and Superman: Truly the World's Finest
by Lee Gordon
As a Marvel comic book fan it might be difficult for me to say this, but my first introduction to the World's Finest team wasn't the Fantastic Four, Avengers, or the X-Men; it was the super duo of Batman and Superman. Even though I wasn't around for their first comic book meeting, I was introduced to them in 1981. It impacted the way I would look at team-up books over the next few decades.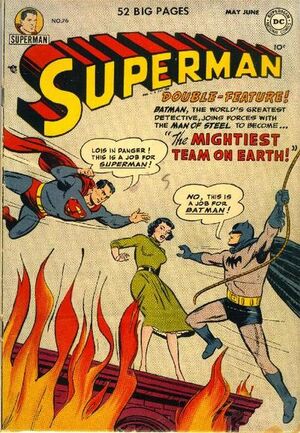 The two Golden Age heroes originally teamed up in print with Superman #76, where they exchanged secret identities (5-52). This was published between the Golden and Silver Age of comics, known as the Atomic Age. If you want their true first meeting, it was actually years before, on March 5th 1945. This took place on the Superman radio show, but that's a whole different story, or is it?
My father was only four when the Dynamic Duo and the Man of Steel joined each other on the cover of World's Best Comics #1, something they also did a year earlier in New York World's Fair Comics from 1940, but if you opened the pages, they were never paired together. Over the years National Allied Publications (before they became DC, a name they were called throughout the years, but wasn't officially their company name until 1977) presented the covers with Clark and Bruce's alter egos, but they didn't find themselves working together until 1954 when DC published World's Finest #71 entitled "Batman-Double for Superman".
Four decades had passed before a copy of the greatest super hero duo made its way into my hands. The series lasted for 323 issues and ran from 1941 to 1986, but it was issue #271 from September of 1981, 200 issues after they joined forces, that introduced me to the comic book world of Superman and Batman together. At nine years old it was a comic I read over and over. To this day I still have no idea how this comic book came into my possession. For $1 I would have rather purchased a candy bar than an over-priced publication.
Issue #271 was a few stories told in one comic book. This is where the radio drama unfolded in beautiful four color form. Batman was missing and it became Superman's job to rescue him, with the help of Robin, the Boy Wonder. One story even had Bruce help Clark when Lois was absolutely, positively sure that Clark Kent and Superman were the same person, not to mention that Bruce discovered that Superboy and Ma and Pa Kent's adopted son were one and the same. And did you know that Robin was the defender of Gotham since Batman was originally dead on Earth 2?
In January of '86, DC ended the long running World's Finest with issue #323. The cover was simple as Batman and Superman said goodbye, two words rested on the cover stating "The End". The title of the issue was "Afraid of the Dark". I never purchased it.
To this day issue #271 is still the be-all, end-all Superman/Batman story to me, while many favor Frank Miller's The Dark Knight Returns. The success in the eighties of DC's square bound limited series starring both of their franchise quarterbacks (as older counterparts) prompted a second series, the Dark Knight Strikes Again, and more recently the Dark Knight III: the Master Race. The first two can be found in trade paperback format for the reader, while the more collectible conscious person might hunt down a reasonably priced graded copy.
I recently found among all the new number ones, that my passion in collecting comic books has remained strong for nostalgic reasons. There is something beautiful and poetic about finding a book from my childhood, and also that I would find it today in the same condition.