Fast facts about Black Panther's Final Credit Scene.
**CONTAINS MAJOR SPOILERS FOR THE MOVIE. READ AT YOUR OWN RISK**
So, you have seen Black Panther and as always, you remembered to sit through the end credits. You DID sit all of the way through right? The 2nd one was very interesting. If you recall, at the end of Captain America: Civil War, Bucky chose to go into stasis, and be taken to Wakanda and get help to free himself from mind control that made him the Winter Soldier.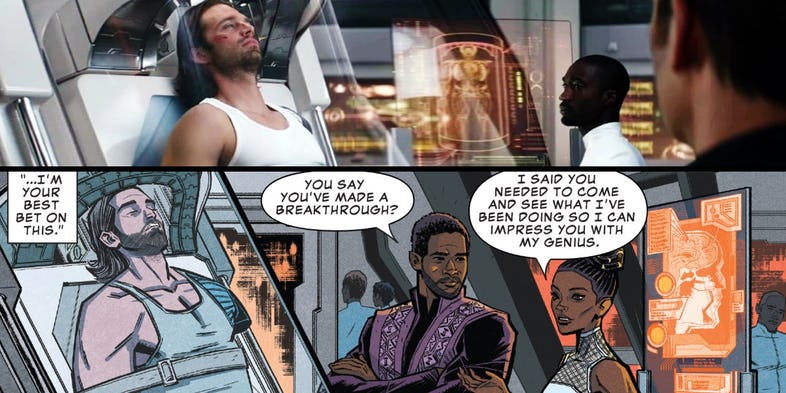 Apparently it worked because we see him talking to Shuri sans bionic arm discussing his future. What's more interesting is he was being addressed as the White Wolf. How will this play into Bucky's role in the Marvel Cinematic Universe? Also will this possibly affect Bucky donning the Captain America role should Chris Evans' character dies on screen?
While we mull over the possibilities let's go though who he is in the comics.
First appearance was Black Panther vol. 3 #4
Real name was Hunter
He was adopted by King T'Chaka and is the adoptive brother to T'Challa
Became leader of Wakanda's secret police, the Hatut Zeraze.
The Hatut Zeraze was disbanded by T'Challa upon him learning how brutal they were
Is very loyal to T'Challa despite at one time having aspirations to the throne
His uniform has a cloaking device and is also able to alter his appearance to look like a regular business suit
So, with Marvel adopting this character to blend with Bucky, it will leave us with so many more questions. Three of which are:
How powerful will his new arm be once Shuri creates it and what kinds of gadgets will we see once he gets his replaced and…
Will we actually see some kind of challenge or confrontation with T'Challa in future films?
Should Atlantis make an appearance in the MCU and go at it with Wakanda, how will Buckly play a part in shaping that event?
Stay tuned as we try to get more answers to these questions and in the meantime go see the Black Panther this weekend which is now playing in all theaters and if you need a fix after the movie, Captain America: Civil War is still available on Netflix…at least until Disney comes out with their streaming service.