The Walking Dead Premier: Who is gonna get it?
It's nearly time for a new season of The Walking Dead and the cliffhanger marking the arrival of Negan was a doozy.  The question that fans have however, is who will bite the bullet as the show opens.  For many that have issue #100 knows that it was Glenn who died at the hands of Negan but over the years, we have seen how AMC and Robert Kirkman deviated from the comics. Who will die at the opening of the season could be anyone's guess, thus we asked a few fans for their thoughts about who they think will die and this is what they said: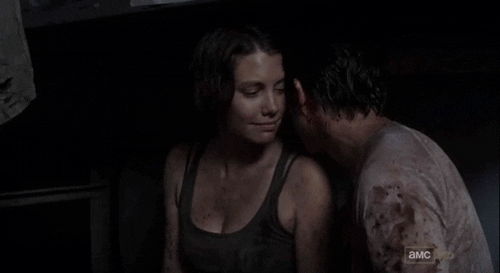 Blake B. – I believe it will be Maggie. It would affect Glenn drastically because of his dedication and love for her, and Glenn is a very crucial member of the group. He does whatever needs to be done, he is pretty much Rick's top go to man aside from Daryl.
Brook H. –  I honestly don't know, but Maggie is a good possibility. It would be an interesting reverse of the comic, plus given Maggie's current health status AND rumors of her off-camera distance from the set.
Noah P. –  I'm going with Glenn. Yeah,  I know it's how it goes down in the comics. Yes, I also know the show is telling a different story than the comics. I know people don't just want a carbon copy of the comic. However, my reason for picking Glenn is I feel it will make the biggest impact on the group. Glenn has a connection with everyone and his death will affect everyone in some way. It will help change who people are. Yes, that's what happens in the comic, but that's why it's so important that it happens in the show: his death moves the show forward.
Angel T.  – I think after the shameless stunt last season of having to watch Glenn ripped apart by a horde of zombies only to discover that he wasn't dead at all episodes later seems to spell trouble for everyone's favorite Everyman archetype on the show. Think about the emotional upheaval it will cause a pregnant Maggie to helplessly watch her unborn baby's father beaten to death in front of her and the ripples it will have for a group that thought they had everything under control. This show isn't called Happily Ever After, after all.
Ginevra W. – I think Glenn, because it's in the comic. I don't WANT it to be Glenn.
Sadly, I don't think that's the only death we will see during the premiere's opening scene. I think Abraham  began to resign himself to the idea that he might not survive this new world and perhaps doesn't want to. Like Glenn, who should've died earlier, fans of the comic know that the arrow which got Denise was always meant for him. We may just lose two principle cast members during the season opener as we get ready to introduce a new supporting cast from The Kingdom settlement.
Kelly M. – Abraham. I don't know. I have a feeling it's him. He was kinda saying his goodbyes.
Bronte C. – Daryl, everyone's thinking Glenn because of the comic or Abraham because he's buried his demons and is ready for a new start. This is a character that everyone loves and would affect the audience and the cast the most. It would be the perfect okie doke. I pray I'm wrong!
Tim W. – Eugene.  Negan likes strong people that he can control, Eugene is weak and honestly, no one would give their life for him.  I honestly think is going to be a high profile character *cough* Daryl *cough* but as far as the show goes, Eugene makes the most sense, story wise.
Joey C. – Eugene. He finally turned a corner and stepped up last season. He also seemed to want to plan for the future. At this point he is valuable enough to the group and the show that his death would be a blow, but not enough to cause the anger/viewer outrage that killing Darryl, Glenn, Michonne, etc. would. My second guess would be Abraham, for similar reasons. I really don't think they will stick to the story and kill Glenn at this point after the whole dumpster bit last season. Through all of last season, I kept thinking they were going to kill Darryl by the end, but now I just don't think it will be him (and I really hope it's not him). I think the show would do better with killing off Rick before Darryl.
So who do you think will be Negan's first victim?  Leave your guesses in the comments below.
Join PCU for weekly Walking Dead Viewing parties at World of Beer Baltimore every week starting October 23, 2016 at 8:30 PM!