In Memoriam – PCU Remembers The Artists Who've Left Us In 2016
2016 was a year of turmoil for the world as a whole and for the artistic community in particular. There were the deaths of Prince, Anton Yelchin, Alan Rickman and, unfortunately, many, many more.
Below are our humble words to commemorate just a few of those who touched us personally, who changed our lives in ways that they would never know, and who changed the world.
Rest In Peace.
Armand
Muhammad Ali

How do you find the words to define one of the most transformative figures of the 20th century? A champion in the ring, in the world and in print, I mean he really did knock Superman out to save the world.
Muhammad Ali is, and always will be, a source of pride for African-Americans, Muslims and all people of conviction and faith. He was not a simple man and any words I arrogantly offer here would fail to do his majestic spirit justice.
All I can say is that he spoke truth to power, was persecuted and hated for having the courage to do so, but as a consequence he gave hope to those who loved him and made those who wished for his destruction marvel at their own ineptitude. What else could you expect from a man that was so badass he made medicine sick? There will be other great sports figures and others who take courageous stands, but humanity won't get another Muhammad Ali. I think God will enjoy his company too much to ever let him come back.
Darwyn Cooke

As a parent there are always a few things that you look forward to sharing with your children as they get older: finally being able to play catch, the first time they see Star Wars, and your comic collection. Darwyn Cooke's artwork was up there on that list. Where Alex Ross' work brings heroes into our world and shows us their humanity Cooke often used his artwork to transport us to a more idealistic world that showed us their spirit.
To be fair that's a simplification, his work was just as amazing on darker titles like his Parker graphic novels or the Watchmen prequel Minutemen.
However in my mind's eye when I envisioned superheroes: saving the day, righting wrongs, they look the way Mr. Cooke drew them. I'm so sorry that he left us all so soon, but I can't wait to show my children his legacy.
Pete
Kenny Baker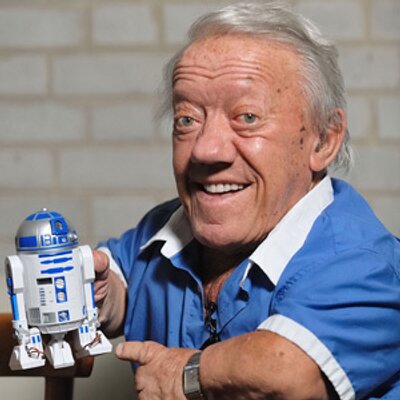 Early on, not every casual Star Wars fan was even aware that it was Baker, a 3-foot-8 British actor, who gave life and personality to the droid R2D2. For the rest of us who pored over Star Wars magazines, articles and behind-the-scenes clips, Kenny Baker was a joyful, funny, charismatic character of his own. His humor was reflected in those anecdotes, half complaint, half satisfaction of being jammed into a space trashcan and asked to make a performance out of it.
Endearing and funny, his work gave every nuance of the beloved R2D2 life. Even into his 70s, he maintained his relationship with Star Wars creators and fans, even attending the premiere of The Force Awakens, despite failing health.  He was 81 when he left us.  A full life and a full legacy.
George Michael
"Heaven knows I was just a young boy.  Didn't know what I wanted to be…"
The leather jacket said Rocker's Revenge, but the music, the shimmy, the grin behind that perfectly manicured beard as George Michael made his solo debut with the title video from "Faith," now that was pure pop. All of it. As was every track that came from his mega-hit filled debut.  And with one LP, the former Wham! artist cemented himself as an 80s pop superstar.
"…There's someone I forgot to be."
But as the 90s arrived and brought a more cynical brand of music both on the Hip Hop and Alternative Rock fronts, even the biggest pop artists were swept aside.  Prince. Michael Jackson. Frankly only Madonna came out unscathed (in 2016, as well). However, just before the wave hit, George Michael released a 1990 concept album of self-reflection, love and humanity: "Listen Without Prejudice, Vol. 1."    In the biggest hit from that album, "Freedom '90" the man whose whose sexuality had been used as a punchline, whose shyness kept him behind the scenes of his own music video, came out swinging with an anthem as grandiose  and exuberant as it was personal and raw. He told his own story, flaws and all. A second gem from the same album, "Praying for Time," is soft and melodic, like a lost John Lennon tune, somehow still full of rage and fear that is sadly even more relevant today than it was when it was released 26 years ago. Some follow-up hits and iconic concert appearances followed, but sadly no LWP Vol. 2. ever came.
"Got to have some faith in the sound; It's the one good thing I've got."
Still, the legacy of George Michael is in making pop songs that were honest. That had weight. Two albums alone, "Faith" and Wham!'s "Make it Big," play like a collection of greatest hits.  Now, with his passing, while we learn about the humanitarian he truly was, we are still left with the gift of his music. Ever the unapologetic popstar, George Michael didn't flirt with greatness.  He quietly achieved it.
Doug
David Bowie and Gene Wilder

The passing of both Gene Wilder & David Bowie hit me particularly hard for various reasons.
I was introduced to the works of Gene Wilder by my late father. When I was a kid, we would spend weekends watching things like Blazing Saddles, Willy Wonka & the Chocolate Factory, Young Frankenstein, and See No Evil, Hear No Evil. Thus, anytime I watch anything starring Gene Wilder, I am reminded of those times with my dad. I was truly saddened to hear about the loss of such a beloved actor, and even doubly so because of the familial history that his work held for me. Even now, just writing this is hard for me, as it makes me miss those simpler times of my youth, and makes me miss my dad even more. Gene Wilder brought so much laughter to the world, and I don't believe we'll see his equal ever again.
As far as David Bowie, I remember as a kid, dancing around my parents' living room to the likes of 'Let's Dance', 'Fame', 'Modern Love', and more. I used to drive my mother crazy by playing Bowie songs on our record player (yes, those used to be a thing) at full volume. Then I was introduced to the movie Labyrinth, which I would watch endlessly.
As an adult, I got involved with the Washington DC goth-industrial scene. It was then that I began hearing Bowie's music a lot more, but now with a more learned appreciation for his lyrics & musical talent. The man had a way of telling stories through his lyrics that was virtually unmatched (in my opinion), and he also became a huge voice for a lot of humanitarian causes which mean a lot to me.
The Thin White Duke, Ziggy Stardust, Aladdin Sane, Major Tom, The Goblin King, or just David Bowie. Whatever you choose to call the man, he will always remain an icon of music, the arts, and humanity. I personally hope his legacy lives on for a long time to come.
Belle
Robert Vaughn

When I was a little girl, and my grandfather was still alive, one of our favorite things to do was to watch old westerns. He and I would sit on the couch together on Saturday afternoons and watch John Wayne, Tex Ritter and Roy Rogers fight bad guys and get the girl. However, there was one movie that brought the entire family together. Everyone would plan their day around it if the TV Guide said it was coming on. Popcorn would be made, lights would be dimmed and the whole family would gather on the couch to watch it. That movie? The Magnificent Seven.
Thus began my lifelong crush on the amazing Robert Vaughn, as well as my introduction to the world of Akira Kurosawa films, as my mother made of point of making sure I saw Seven Samurai so I could compare and contrast the two works. As I got older I sought out Vaughn's work on the original The Man From U.N.C.L.E and that's where my crush solidified. Napoleon Solo was charming, handsome, quick with a gun and a quip, is it any wonder I fell for him so hard?
When Hustle came out I was delighted to see Vaughn back on the small screen and even more delighted that he was every bit as charming and sharp witted as ever. With Vaughn's death it honestly feels like we've lost the last of the old school Hollywood stars and we are all the poorer for it.
Gwen Ifill
The voice of honesty. Kind, compassionate, yet incisive and probing when needed, Gwen Ifill was the news in our household. The first African-American woman to host her own news show with Washington Week In Review, I've listened to her voice, in one form or another, since I was little. Getting to where she did wasn't easy, an incident at the Boston Herald where she interned epitomizing her struggle, yet whether it was her articles in the Baltimore Evening Sun or the New York Times; her hosting of the PBS Newshour or her many speaking engagements, she brought the world into our home. Gwen Ifill showed us what was going on beyond our borders while never forgetting that empathy for others, combined with a quest for the truth, was what actual journalism is about.
Florence Henderson
'As long as you have the talent and the drive you will succeed. You're never too old. Too young. Too anything. You can do anything you set your mind too.'
That was one of the first things Florence Henderson said to my 16 year old self during the summer program at the American Academy of Dramatic Arts. She was a great inspiration and mentor and her humor and wisdom stayed with me my entire life.
While her personal life was marred with tragedy – in ways that most people have no idea about – she herself endured. Far from perfect she played the world's most perfect mom but to me she was just an awesome teacher.
At 16 I had left home, with my mother's blessing, to attend the AADA's summer program in New York and see if this acting life was for me. There I learned from several amazing teachers, such as the incomparable Harvey Solin, but Ms. Henderson made a huge impression. I think it was her genuine joy in what she did and her contentment with who she was. Unlike some actors, who became resentful of the franchises that either started or revived their careers, Henderson didn't come off that way.  Yes, she had been a well established Broadway star before becoming America's Mom, and yes, she would forever be known for that one part, yet it didn't stop her from enjoying her life. If anything she seemed grateful and genuinely touched by the fact that she was beloved by millions around the world.
It was that grace and groundedness in herself that I always admired and strive to embody. She, along with my mother, truly exemplify just how strong a woman can be.
Hopefully I can have the same impact on those around me as she did on me.
Goodbye Ms. Henderson, and thank you from the bottom of my heart for sharing your experiences with all of us.
You will be missed.
Debbie Reynolds
With a career that spanned over 60 years Debbie Reynolds was bonafide Hollywood royalty. The face of an angel, that hid a razor sharp wit, she was the girl next door everyone wanted to be, or date. Though her life was so publically documented, well before the age of the internet, that it could've – should've – destroyed her, Reynolds never, ever let anyone see her sweat. Instead she turned the media's fascination with her into comedy gold and used her pain as a catalyst for some of the best performances ever captured on film. I actually hadn't understood how much of an influence Debbie Reynolds and Carrie Fisher have been on my life until I realized that the first two movies I remember my mom showing me were Singing In The Rain and Star Wars: A New Hope.
They're the reason I became an actress.
I wanted to be like them.
PCU Remembers Carrie Fisher
Adam:
I didn't know Carrie Fisher personally. None of us did. The deep mourning can only be left to her close friends and family. The rest of us just knew her from afar, larger than life on the big screen, but still only a glimpse of the real woman.
I can only write about what she did for us in the hours that she entertained us on the silver screen. The quintessential space heroine, she showed us that people could stand up and face the worst of tyranny with an unflinching face. That even the worst of people have some good beneath the surface and can be loved. That in a universe of darkness, there is hope.
Rest in peace, Carrie Fisher, and know that you'll continue to inspire us, and generations of fans, long after your passing.
Ron:
Pretty sure Carrie Fisher was my 1st crush (before the bikini scene, but that definitely solidified it for me – no pun intended), but more than that Leia was a female role model in a genre that was severely lacking in them. She was strong, she was smart, she was a leader of men. Then Carrie Fisher showed us that we can face our demons head on with class and humor, once again being a role model that we needed even if we didn't know it.
To say she will be missed is an understatement. We will not see the likes of her again any time soon.
Go back amongst the stars and be the stardust you led us all to aspire to. And thank you.
Belle:
"They were at the wrong place at the wrong time naturally they became heroes" – Princess Leia from Star Wars: A New Hope: Novelization
The first woman I looked up to that wasn't my mom. The hero I wanted to be. My entire life Princess (General) Leia Organa-Solo was the epitome of everything awesome in the world: wise, beautiful, smart and sassy. She was the iron fist in a velvet glove and she was all of those things because her portrayer was. Carrie Fisher was a survivor first and foremost who overcame her own faults to stand proud and strong. Who knew how to ask for help when she needed it and was open about her problems so as to help others.
She was, simply put, amazing.
May The Force Be With Her.
Always.
 *All Photos via Getty Images